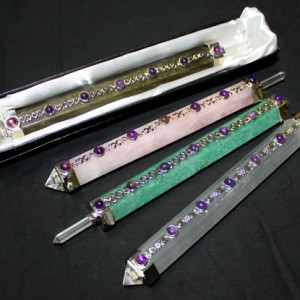 Product Description
The six-sided wand has a faceted crystal point on one end and a crystal pyramid on the other. There are seven amethyst cabochons on a decorative metal setting on the front of the wand. Premium quality wand with beautifully executed metal work. There are Two different stones to choose from: rose quartz, or Gold sheen obsidian and each wand comes with a nice black box lined with white satin.
This is a powerful healing tool made of high quality crystal. Total wand measures 7.5″ long.
Upon checkout leave a note notifying us if you want Rose Quartz or Gold Sheen Obsidian.
****This product qualifies for FREE shipping. PLEASE ENSURE YOU CLICK THE FREE SHIPPING UPON CHECKOUT**********