Modern scientific study and trends towards more holistic approaches to wellness are driving a revival and new discovery of essential oil health applications.
dōTERRA (CPTG) Certified Pure Therapeutic Grade® essential oils represent the safest, purest, and most beneficial essential oils available today. They are gently and skillfully distilled from plants that have been patiently harvested at the perfect moment by experienced growers from around the world for ideal extract composition and efficacy. Experienced essential oil users will immediately recognize dōTERRA's superior quality standard for naturally safe, purely effective therapeutic-grade essential oils.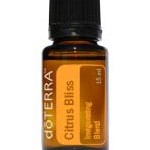 OIL OF THE MONTH: Citrus Bliss, Invigorating Blend $20
dōTERRA®'s Citrus Bliss invigorating blend merges the benefits of citrus essential oils. We combine the powerful essences of wild orange, lemon, grapefruit, mandarin, bergamot, tangerine, and clementine with a hint of vanilla to form this unique and harmonious blend. With benefits that extend beyond elevating mood and reducing stress, Citrus Bliss has natural, potent compounds with cleansing properties. Mixed with water, Citrus Bliss is a perfect solution for disinfecting counter tops and other surfaces while emitting a fresh sweet scent. For aromatic or topical, use.